40/55w LED "Flounder Finder 6000"
LED Gigging Light, Model FF-6000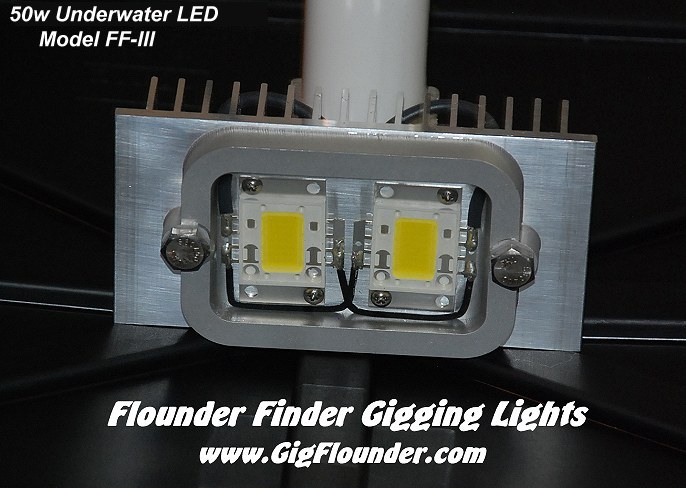 Flounder Finder 6000 features 40/55 watts power rated at 4800-5200 lumen.
Light pattern (side to side) is VERY wide with this light.
LED is encapsulated in optically clear silicone making it waterproof.
Also available with two 20w LEDs in the Neutral white color.
The Neutral White color is the brightess and most popular in this model.



Handle is approx. 60" long with 6 foot power cord


>> MOST POPULAR FF-6000 Model <<


Brightest @ 5000-5200 lumen



Flounder Finder 6000


50W Total Power ............ $150

(plus shipping)

Neutral White Color: 4500-4800K




Two 25w LED, 5000-5200 lumen brightness

(Scroll page to see color)

Flounder Finder 6000


40W Total Power ............ $135

(plus shipping)

Neutral White Color: 4500-4800K




Two 20w LED, 4200-4400 lumen

(Scroll page to see color)

Don't let the lower wattage fool you... This light is very BRIGHT and uses LESS battery power. It is NOT available in warm white.


Package Deal: Batteries and Gig Available Below


Flounder Finder 6000 - Package #1:
(First Select Light above and then ADD these to SHOPPING CART)

Two 4Ah Batteries, and one Charger
$75.00
(plus shipping)


NO FLOUNDER GIG IN #1 PACKAGE
(See Below for package with gig)



> USPS Express SHIPPING OPTION <

We ship using USPS Priority Mail with tracking.
USPS is experiencing unexpected delays in some deliveries.
This is due to the Covid problem.
Because of this, we are offering USPS EXPRESS
shipment which USPS says is not impacted with delays.

CALL FOR RATE QUOTE BEFORE ORDERING

To ship USPS Express, select it here....
There is an additional cost of $25 to $75 for EXPRESS**.
This is for shipment of the walking lights only,
Box length of 65 inches, weight 3.5 lbs.
If you want FedEx or UPS shipping,
call and we can discuss that as an option as well.


**Depends on your location.
By not choosing the USPS Express option, you are acknowledging that you accept
that there may be delays in shipment and delivery of your order.

The packages below include the Flounder Finder 6000 light


PACKAGE #3

Includes the Flounder Finder 6000 Light,
Two 4 Ah Rechargeable Batteries,
the Battery Charger.


$225 plus shipping


PACKAGE #4
This package has it all!

Includes the Flounder Finder 6000 Light,
Two 4 Ah Rechargeable Batteries,
one Battery Charger, a Backpack,
and one two prong walking gig.
The Gig ships free!

$285 plus shipping
All Sales are Final - No Refunds - Exchanges May Be Considered
Ask questions before ordering... We are glad to help.
(Exchanges for different model light will be considered if shipment has not been made;
If we ship the light and you wish to exchange it, we will do so only if light is not
used and is in NEW condition. Buyer pays all shipping charges both ways.)
Comparison of LED Colors
Click Photos Below to View Larger Images
The Warm White is not actually quite this much "yellow",
but there is an obvious and noticeable difference between the two colors.
Best I could do with camera to show comparison....
ABOUT "THE FLOUNDER FINDER" LIGHT: This light is constructed with the finest in LEDs... The 30w LED (made with premium LED diodes) provides 3300-3500 lumen of brightness over a large area in front of you. The power draw is a modest 1.4 amps 12v DC. The handles of these lights are constructed of schedule 40, 1" PVC to provide strength and long life for the gigging light. These are professional quality, hand made lights, built with care and attention to EVERY detail. This light is for gigging flounder while walking and is to be held underwater. This light is intended to be submerged, but may also be used out of water for limited periods of time. These are great flounder gigging lights and will provide many years of use. Extremely bright, light weight, easy and comfortable to carry.


BATTERY FOR LIGHT: The battery for these lights can be easily carried in a backpack, fanny pack, or an over the shoulder type camera case. The battery is not included in purchase, but is available here on our website (see package deal), or you can easily buy it locally. A 4.5 Amp Hour battery should last for 2 1/2 to 3 hours. A charger rated at 1amp is suggested.


COLOR OF LIGHT: These LED flounder lights have the Warm White (3200-3500K) or the NEUTRAL white (4200-4500K) color. We also have a limited supply of LEDs that are rated whiter, color of 5000-5500K. All are excellent LEDs built with the finest 45 and 50mil premium led diodes. If you want the more white 5000-5500K color, contact us prior to making your purchase as it is not a choice from the shopping cart above.
WARRANTY:
**
Our new Flounder Finder light, the Flounder Finder II, and the Flounder Finder III light have a one year warranty with the exception of lights that show evidence of abuse, modification, neglect, improper maintenance, or intentional or accidental misuse or damage. Take care of the light and it will give you many years of trouble free use.
The Fine Print:
Warranty does not cover damage to any aspect of the product caused by weathering, atmospheric fallout, or other corrosive residue, and does not extend to loss or damage caused by normal wear and tear. Warranty does not cover cosmetic damages (scratches, dents…etc.) The warranty is under no circumstances transferable to any other party that is not the original buyer of the Product.
The user of the light must be able to provide proof of purchase. This warranty only covers a Product that is purchased directly from GigFlounder.com. In the case the model of light is no longer manufactured, the then current closest functionally equivalent replacement light will be used as determined by GigFlounder.com technician.
Back to Homepage

***********************************

Call 979-532-2577 for information.